Prime Time Shuttle App
Take advantage of the many benefits of using our mobile app now available for both iPhone and Android mobile phones.
Why Prime Time Shuttle?

Save Money
Many of Prime Time Shuttle's services are under $30. We provide exact pricing and NO surge fees, even on the weekends.

No Stress
No need to deal with traffic, road services, parking fees, and the stress of driving yourself to the airport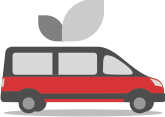 Help the Environment
Shuttle Shareride reduces the number of cars on the road. Each Prime Time Shuttle Van eliminates 12,500lbs of CO2 per month

Reliable
Since 1984 Prime Time Shuttle has serviced more than 21 million passengers safely and efficiently.